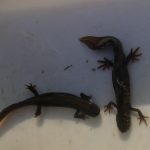 Congratulations to our ecologist Aaron Isaacs who is now the holder of a Natural England Great Crested Newt survey licence. Aaron has been approved as being sufficiently experienced to hold a Great Crested Newt (GCN) Class 1 survey licence from Natural England.
Therefore, Abricon Limited can now provide up to four GCN Licensed surveyors for sites as and when required; and we are already providing this service for several of our clients.
Abricon can provide advice and support in situations where GCN are a material consideration, from small scale developments through to large scale infrastructure projects; and we have experience in advising on newt mitigation for various scenarios. Our experienced team is able to quickly assess a site and identify situations where the presence of great crested newts requires consideration; and we always aim to provide the solution to any constraints identified.
Our attention to detail, investment in technology and vast experience helps us to suggest the most cost-effective solutions.
We aim to respond to enquiries on the same day and schedule our surveys in days (not weeks), which helps our clients to meet even the tightest of deadlines. Our efficiency and expertise has saved our clients considerable amounts of time and money!
Note that we also have ecologists licenced to survey for GCN in Wales.